Welcome to Windmill Hill Farm
Windmill Hill Farm began operation in 2000 and is owned and operated by Don and Carol Ragan. We've grown from a few hives to over 3000; that makes us a small commercial apiary. We manage over 90 bee yards which are hosted by our friends and neighbors throughout the county. We also process, package and sell all our own product. We produce honey and wax exclusively. We also rent our hives over the winter to pollinate the almonds in California.
Windmill Hill Farm produces only wildflower honey exclusively from the thumb of Michigan. Because Michigan has such a wide variety of nectar sources our honey has a flavorful full bodied taste that makes it a favorite as a table honey, for cooking and for mead & beer making. We sell no varietal honey since Manuka trees, orange trees, sage bushes etc. don't grow in Michigan. We sell every size imaginable from 2 oz. bears to 5 gallon pails; see our Store for a complete selection.
We're not only proud of the flavor of our honey but of our clean and natural processing environment. We're a Michigan licensed honey house. Our honey is Kosher cetified (Rabbi Jason Miller, www.koshermichigan.com). We use the minimum possible chemicals in the care of our bees; the honey has been tested for pesticide residue. Our honey is raw unfiltered and unpasteurized.
Custom labels for your parties
Private labels for your business
Having a baby shower? Perhaps an upcoming wedding? These mini bears are the perfect party favor. Want a more formal favor, try the glass hex jars. We custom label so the favor perfectly commemorates the event. Choose from a variety of label samples, modify as you'd like or let us know what you'd like. Orders are filled in a timely fashion.
Get Started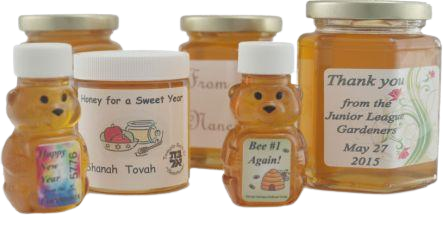 WHF honey is the best in Michigan because:
All our honey is raw:
Never heated (Pasteurized)
Never filtered
All natural
All honey is 100% Michigan from our bees
Creamed honey is the same all Michigan honey
Light (white) in color
Shop Now
Liquid Honey
We sell the best honey on the web for the lowest price!! This is pure raw honey from the nektar sources of the thumb of Micigan. Never heated or filtered. Bears, skeps, jugs, jars and pails!
Shop Now